Relief Teacher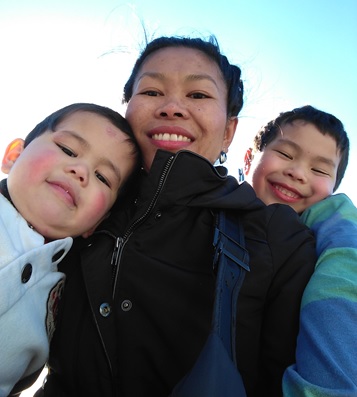 Ko Kaukau te maunga. Ko Kaiwharawhara te awa. Ko Philippines te toi whenua. Ko Perrin tōku hoa tane. Ko Andre raua ko Leon a mau tamarik. Ko Sheryl Morrow tāku ingoa.

Kia ora koutou Ngaio Childcare Centre whanau. Kamusta! My name is Sheryl Morrow. I am originally from the Philippines. My husband Perrin and I have two beautiful boys, Andre and Leon. My ECE teaching journey started here as a volunteer in 2014 while doing my National Certificate in Early Childhood and Care qualification, and I met the wonderful, helpful and friendly teachers, tamariki and their families at this centre. Because of the experience I had here, I decided to pursue a degree in Early Childhood Education Teaching. I returned in 2017 as a centre mother and occasional reliever. I am now in my second year of my degree and loving how far I have come along after that first encounter with the centre.
I truly believe in the centre's philosophy because it is in line with my own emerging teaching philosophy. That is to place emphasis on the importance of whanaungatanga (relationships) and manaakitanga (welcoming) to build reciprocal, responsive and respectful relationships between whānau, tamariki and kaiako. I am looking forward to meeting more of our lovely tamariki and their whānau as I continue to learn. He waka eke noa! (We're all in this together!) Tēnā koutou katoa.